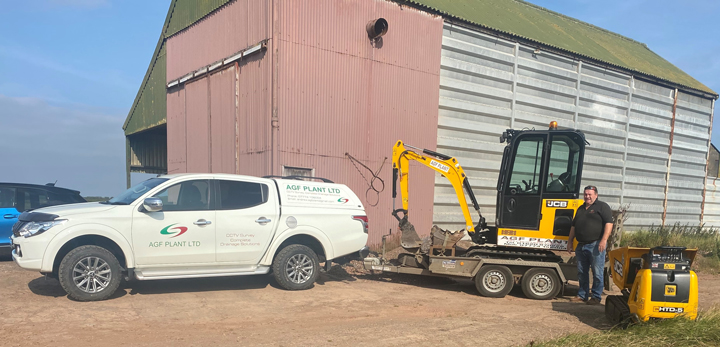 Andrew (Drew) G Fiddes, owner of A G F Plant Ltd which operates in the Scottish Borders, East and Mid Lothian looks back over the 30-year relationship with JCB Finance, "I have used JCB Finance for just about all of my Hire Purchase since starting my business in 1988. Since that first agreement it has always been quick and easy - JCB Finance are a pleasure to do business with."
A busy plant hirer and operator, Drew has been supported by JCB Finance Relationship Manager Alistair McCann since his early days arranging finance on many purchases over the years including JCB Backhoe Loaders, Dumpers and recently a new JCB 16C Mini Excavator and commercial vehicles.
Drew says "When you are young and green you worry about what you can afford when you are buying plant, machinery and vehicles for your business. As you get older and more confident and with the JCB Finance shoulder and backing behind you it makes all the difference."
In 2020 JCB Finance Ltd celebrated its 50th anniversary. JCB Finance Managing Director Paul Jennings – who has worked for the firm for over 40 years – said: "We appreciate our long relationship and, like Drew, some businesses have dealt with us for decades, sometimes through several generations, which reinforces our belief that our efforts are trusted as knowledgeable partners. There have been radical changes to the way business is done over the past half century but the core mission of JCB Finance has remained the same: to support JCB customers with fantastic finance options with speed, efficiency and fairness."
"Throughout our history we've made sure that we keep the personal touch and even with today's digital world we are committed to having 'boots on the ground'. Customers can choose how we serve them whether that's direct, online, via the JCB dealer network or our team of Specialist Managers in the field."
Businesses can find the Relationship Managers responsible for their area, using our simple post code look up tool. You will be offered details of a local Field based Manager or one that is based at the Head Office in Staffordshire so that by telephone, email, video or face to face, customers can access the service they need.