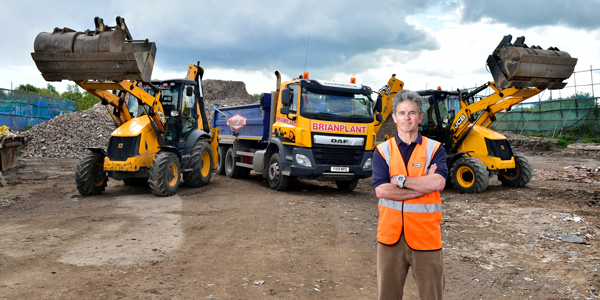 Grimsby based Brianplant (Humberside) Ltd is a successful family owned business specialising in earthworks, demolition, site clearance and plant hire. Established in 1984 the business has expanded and diversified over the years and now also operates its own aggregate recycling and merchanting and has a licensed waste transfer station close to Grimsby dock.
Brianplant were first introduced to JCB Finance Ltd when they purchased their first JCB backhoe over 20 years ago and have continued as happy customers of JCB Finance ever since.
Clive Thornley, Managing Director of Brianplant said
"JCB Finance have always provided a very good customer relations and are always competitive. The people are great, we have had Steve Revell as our main contact for 20 years, it really makes the difference when you are dealing with finance people that understand the sector and our business."
In addition to their purchases of JCB machines Brianplant have used HP from JCB Finance to purchase commercial vehicles and screening equipment for their aggregate recycling.
"Every transaction is always well organised and efficient. Using the JCB Finance Online service is simple and easy to understand – I like that and I really appreciate their approach to making sure my account is secure. They really have the customers interests at heart."
To discuss tailored finance solutions that meet the needs of your business you can use our "find your JCB Finance Relationship Manager" page using your postcode.