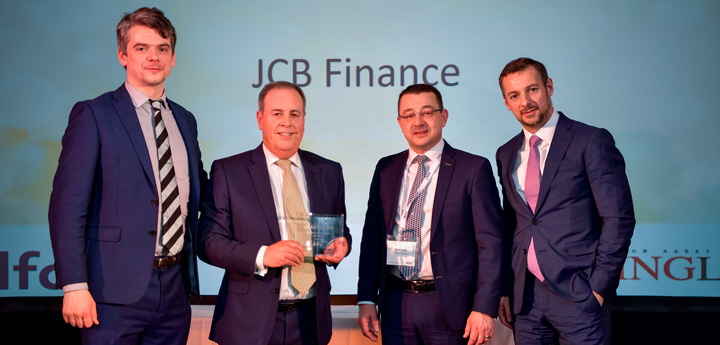 JCB Finance one of the UK's leading asset finance companies has been recognised for its commitment to providing customer solutions at the Leasing Life Chief Executives' Lending Forum and Awards 2018.
The national team was selected as the leading Captive Finance Provider at the prestigious awards, which bring together the leading finance providers to celebrate the best in the UK for innovation in lending and corporate finance.
To win the Captive Finance Provider title the JCB Finance team had to demonstrate the support they offered throughout the customer journey. This ranged from developing finance calculation apps for JCB dealers to assist with sales, an online portal for customers to organise finance paperwork and by providing HP and Leasing products responding to the needs of business customers in construction, agriculture and industry.
Paul Jennings, Managing Director of JCB Finance, said: "We're delighted to have received the Leasing Life Best Captive Finance Provider Award of 2018.
"We've been providing asset finance and supporting business growth in the construction, agricultural and industrial sectors since 1970, so we understand the challenges our customers face.
"In times of uncertainty it's important for businesses to hold any cash reserves against potential dips in income, so we have always gone out of our way to support customers with asset finance, using hire purchase and leasing to help them secure the resources they need while protecting their working capital.
"We also developed our SalesMaster app so that our customers have access to funding options via the JCB UK dealer network. Using the app finance options can be demonstrated by the sales team at the dealership, trade event or while at the customer premises without having to refer to a separate specialist or wait for a subsequent call or meeting.
"Alongside this we developed a dedicated accreditation programme for the dealers, so customers can be certain our SalesMaster app users offer a compliant service which ensures they are treated fairly, and we now have more than 200 accredited sales engineers.
"These innovations in our service are just some of the ways our team work to provide solutions for our customers and serve them with enthusiasm, hard work and honesty.
"Receiving this title is both a privilege and wonderful accolade, and we're very grateful to Leasing Life and its judging panel. We will certainly give this prestigious award the prominence that it deserves."
Finance options are not restricted to JCBs, but are also available for other non-competitive and used machinery including cars, 4x4's and commercial vehicles.
For more information about all the flexible finance options available from JCB Finance get a quick quote by calling 0800 150650.