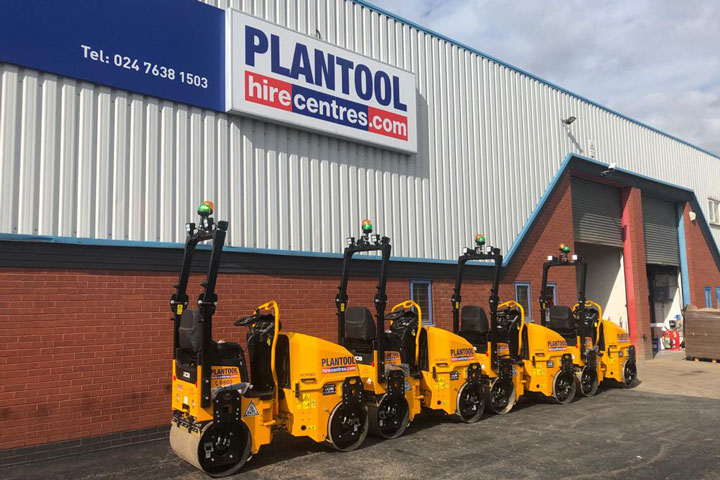 Plantool Hire Centres have just taken delivery of their first JCB CT160-80 compaction rollers from Watling JCB. With 6 depots across Northamptonshire, Warwickshire and Leicestershire, Plantool now have an impressive line-up of JCB vibratory tandem rollers as part of their extensive range of plant and tool hire.
The rollers have been purchased using a tailored Hire Purchase facility with JCB Finance who they have had a strong relationship with for over 10 years. Plantool were one of many businesses offered support by JCB Finance at the beginning of the COVID-19 outbreak.
Plantool Hire Managing Director, Ben Jones said:
"JCB Finance were so quick to offer help. They were second to none! The offer of pausing my payments because of Coronavirus gave me an instant relief on cash flow and using my JCB Finance Online account meant all I had to do was one click and it was sorted."
Life is extremely busy for business and family man Ben and his time is extremely precious.
"Running a business isn't a 9 till 5 job. You take it home and you take it on holiday! So, being able to sort my finance out on the fly with JCB Finance offers great flexibility. I don't have to book an appointment or sort out a pile of paper, the online service is so quick, efficient and is easy. Taking away any hassle from sorting out finance when I'm purchasing saves me time and money."
To discuss tailored finance solutions that meet the needs of your business you can use our "find your JCB Finance Relationship Manager" page using your postcode.
JCB Finance Ltd is authorised and regulated by the Financial Conduct Authority (Firm reference number: 708332).