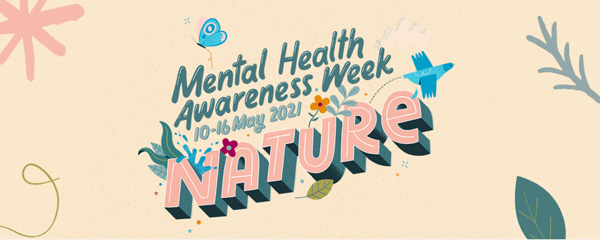 Mental Health Awareness Week hosted by the Mental Health Foundation is taking place from the 10th – 16th of May 2021 to raise awareness, remove stigma and this year encourage people to take to the out doors and connect with nature. The foundation has two clear aims this week:
Firstly, to inspire more people to connect with nature in new ways, noticing the impact that this connection can have for their mental health.
Secondly, to convince decision makers at all levels that access to and quality of nature is a mental health and social justice issue as well as an environmental one.
2021 is going be a huge year for nature: a new Environment Bill will go through the UK Parliament which will shape the natural world for generations to come; the UK will host the G7 nations where creating a greener future will be a key priority and a historic international UN Climate Change Conference of the Parties (COP26) will be hosted in Glasgow in November.
There could not be a more important time to understand the links between nature and mental health.
The JCB Finance head office is based in a rural location in Staffordshire which we believe gives our staff a great opportunity to explore the beautiful nature around our working environment. We shall be sharing some of our pictures from here throughout the week on our social media channels:
Facebook, Twitter, LinkedIn and Instagram
Supporting the Industry and Workers
Here are a handful of charities that offer tremendous support to those in the industries we serve:
Lighthouse club The Construction Industry Charity
R.A.B.I - The Royal Agricultural Benevolent Institution
JCB Finance - People Helping People
Here at JCB Finance we always put people first. We understand the high pressures and stresses business and the people running them face. With over 50 years experience we have stood by our customers through thick and thin and shoe empathy when times get tough.
If you are a customer and have any queries or concerns about your account please contact your Relationship Manager or call 0800 150650 - we are here to help.