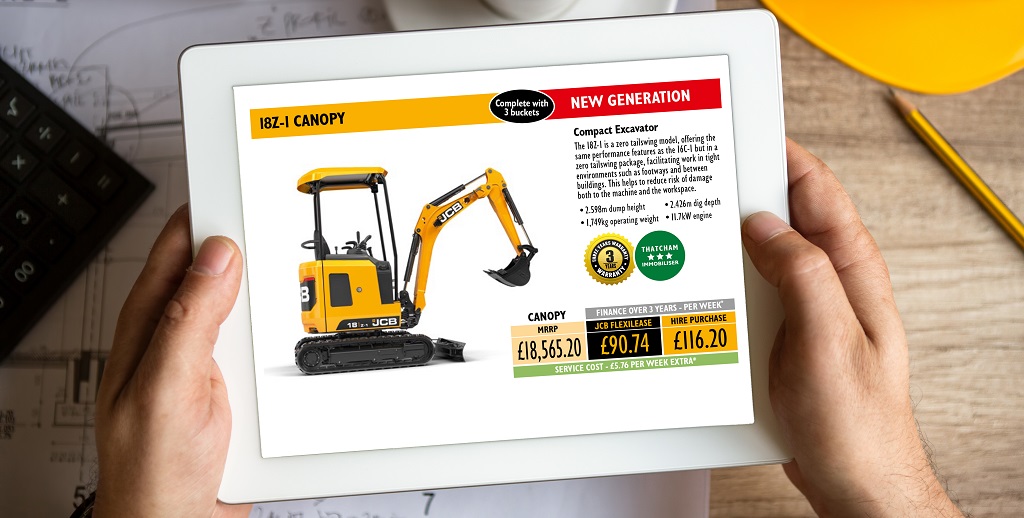 The JCB more2offer catalogue is home to a wide range of compact JCB equipment including the New Generation Mini Excavators, Dumpers, Compaction Rollers and Compact Loadalls. Discover the weekly costs of these machines using our Hire Purchase and Leasing facilities, enabling you to spread the cost to help preserve cash flow.
This issue features the new range of New Generation 1-2 tonne excavators and to demonstrate that JCB has even more2offer, we have tailored packages for Landscapers, Groundworkers and Utilities Contractors. Plus, a special offer on the JCB Service Plan available from only £5.76 +vat per week which comes with a JCB PremierCover 3 year/2000 hour warranty FREE of charge. Available on new orders placed before 31st December 2018. terms apply.
Click below to discover how your own JCB is within easy reach ...

Customer notice: the prices of the 3 Year FlexiLease of Mini Exacavators shown on pages 3 to 13 are based on a maxi,um hours of 500 per annum.